december
19/12/2003
-- Hollywood suffers defeat in Net file sharing case - Net censorship in China, Zimbabwe, Iran, Tunisia, Vietnam - Bush Backs International Cybercrime Plan & gets more spy powers - New privacy-friendly Cryptophone unveiled... (GILC Alert 7.9)
18/12/2003
-- Peter Hustinx, the Dutch data protection commissioner, was elected by the EU Parliament, with Council approval, as the new EU data protection commissioner - Spanish magistrate Joaquín Bayo Delgado (first choice but contested) named deputy.
-- Le nouveau Commissaire à la protection des données est le néerlandais Peter Hustinx (vote du Parlement, approuvé par la Conseil), remplaçant l'Espagnol Delgado, (premier choix contesté) qui sera son adjoint (EDRIgram Newsletter - Dec. 18)
18/12/2003
-- Télépéage routier: sans aucune préoccupation vis à vis du droit à la libre circulation et à la protection des données, l'UE prépare pour 2010/2012 un système unifié de péage sur autoroute via satellites GPS et/ou téléphonie 3G. Vive les télémouchards!
-- EU prepares for 2010/12 a unified electronic road toll system - data protection doesn't seem to be a top priority. It sould use a GPS-like detection scheme, and/or compatibility with 3G telephony.
17/12/2003
-- UN Special Rapporteur on the Right to Freedom of Opinion and Expression says freedom of expression largely neglected at WSIS
-- Le Sommet de Genève sur la SI critiqué par le haut commissaire à la liberté d'expression (UN report)
16/12/2003
-- Profiling Airlines: the Commission finaly signed a deal regarding US access to EU airline reservation systems. Data retention has been lowerd to 3,5 years, sentsitive data will be filtered and a push system will be imposed. No connection should be allowed with other agencies than homeland security department. But right of access accorging to EU laws will not be permited.
-- La Commission a enfin signé un accord sur les conditions d'accès des USA aux bases de réservation des compagnies aériennes. Durée de conservation ramenée à 3 ans et demi, données sensibles filtrées et système push obligatoire; les USA ne pourront pas partager ces données avec d'autres autorités que le homeland security department. Mais le droits d'accès à l'européenne ne pourra pas fonctionner.
05/12/2003 -- IPR Enforcement Directive: No criminal sanctions in for private and relatively small-scale infringements (Legal Affairs Committee, EU Parliament / EDRIgram Newsletter, Dec. 18) / Directive propriété intellectuelle: la commission juridique du Parlement abandonne les sanctions criminelles pour des infractions mineures.
01/12/2003
-- Indic Airlines: L'UE prépare aussi sa base de données "passagers" pour contrôler les flux migratoires: obliger les compagnies à suivre à la trace leurs clients via les données APIS (identité, passeport): déclaration obligatoire de toute personne étrangère ne respectant pas son plan de vol et restant sur le sol de l'UE; pour les compagnies, risque d'amende de 3000 à 5000 euros si les données ne sont fournies aux autorités ou si elles ne sont pas collectées correctement. La durée de conservation des données est encore en débat au sein du Conseil (Rapport spécial de Statewatch)
-- EU prepares its "passenger data" directive and a wholesale security checking of every traveller. All airlines are to collect and pass over passenger data for vetting - in order to combat "illegal immigration". Carriers who do not hand over the passenger data or give incomplete or false data should be subject to fines of 3000 - 5000 euros (for each flight or each passenger - still undecided). Data retention still unresolved (Special report from Statewatch)
november
20/11/2003
-- Schengen Information System: Le Parlement européen a voté une motion de défiance sur le prochain fichier SIS-II (2006) - "la plus grande base de l'UE". Du controle des frontières, on bascule vers la coopération policière. Le Conseil insiste pour que SIS-II soit du ressort du 3eme pillier (intérieur, justice), pour lequel le Parlement n'est pas encore compétent. Accès à d'autres autorités (dont Europol) sans garantie de protection des données, absence de controle démocratique du Parlement...
-- Schengen Information System: the EU Parliament passed a resolution urging more data protection control, less opacity and more democratic scrutiny. The Council maintains that SIS-II ("EU's largest database") should be adressed as a 3rd pillar project (justice, home affairs), not covered by the EU's treaty. Europol agents should access the database but no data protection rule will be allowed.
21/11/2003. -- Technologies de surveillance automatisée en vedette au salon Milipol 2003 (Transfert.net + Zdnet.fr)
17/11/2003. -- GILC Alert: China dissidents, EU-DMCA, Big Brother Awards in CH, DE, AT and SP, ... (GILC)
13/11/2003. -- + EPIC Alert - Voting Machines, DOJ vs Spam Bill, Wiretaps (EPIC)
13/11/2003. -- EU law on asylum procedures: an assault on human rights? (Statewatch)
october
30/10/2003. -- What Is The Matrix? ACLU Seeks Answers on New State-Run Surveillance Program
15/10/2003. -- Legal Blow To UK Government's "Snoopers Charter" (Privacy International)
12/10/2003. -- Profiling Airlines: evidences from Spain (Statewatch, BBA Spain)
09/10/2003. -- Profiling Airlines: Euro Parliament urges US/EU officials to reach an agreement on passengers data by Dec. 1st - Le Parlement EU exige qu'au 1er Dec. un accord US/EU soit trouvé sur les données passagers (EU Parliament)
- "Security and privacy for the citizen in the Post-September 11 digital age: A prospective overview" (EU Parliament - pdf)
- "Silenced" -- new study on Internet censorship around the world (Privacy International, EPIC)
08/10/2003. -- "Sarkozy à l'école de Le Pen" - "loi sur la maitrise de l'immigration", 2eme lecture au Sénat, mesures imposant la biométrie pour les bénéficiaires d'un visa pour la France (Gisti)
september
30/09/2003. -- Profiling Airlines: EPIC urges CAPPS-II to stop (EPIC request)
26/09/2003. -- TIA's funding freezed by Congress - le projet TIA gelé par le Congrès US (ACLU)
19/09/2003. -- Biometrics - the EU takes another step down the road to 1984 - Projets de l'EU en matière de biométrie pour maitriser l'immigration (Statewatch, Gisti)
05/09/2003 -- 6th annual Privacy and Human Rights survey (Privacy International, EPIC)
july
14/07/2003. -- (Lambda 9.04) Le CSPLA plus fort que Sarko - Les remords du Général Crypto
08/07/2003. -- Profiling Airlines/ Fichiers passagers: Amadeus siphonné / Passenger Data: Amadeus hacked by US (Statewatch)
june
25/06/2003. -- GILC Alert (China dissents in jail), EPIC Alert (CCTV), EDRI-gram (Passenger Data update)
may
20/05/2003. -- Bienvenue à la base TALON, le moulin à rumeurs du Pentagone (Kitetoa en VF, Wired en VO)
21/05/2003. -- (Lambda 9.03) Profiling airlines, mouchards hitek, Cisco à l'écoute & updates...
april
09/04/2003. -- Les premiers trophées du Stupide Sécuritaire - découvrez le musée de la décadence (encore une opération Privacy Intl)
03/04/2003. -- Le projet Total Information Awareness de l'amiral Pointdexter distingué à New York, avec Delta Airlines et... Ben Laden. Les BBA aux pays des survets.
mars
25/03/2003. -- Tony Blair décroche le pompom du meilleur Big Brother de l'année - celle des 100 ans de la naissance d'Orwell. 5ème palmares des BBA UK.

14/03/2003. -- (Lambda 9.02) Les avions renifleurs et le fichier PNR - Malaise passager entre Strasbourg et Washington. + La LSI de Sarkozy passe entre les mailles anticonstit' - le Conseil met la fessée, mais ne censure pas. + China Wide Jail - update.
february
26/02/2003. -- La LEN de Nicole Fontaine adopté en 1ere lecture par l'Assemblée. Retour Sénat fin juin 2003. La LEN pour les nuls, par la ligue L-Pic. [PDF]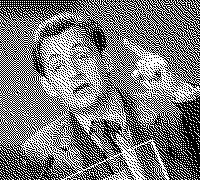 13/02/2003. -- La loi Sarko passe, le droit d'accès aux fichiers d'Etat trépasse - texte adopté le 13 février par le Sénat (PDF). Examen en cours au Conseil consitutionnel.
PALMARES DES BIG BROTHER AWARDS FRANCE édition 2002
07/02/2003. -- Lambda 9.01 Sarko dopé! Bauer encadré, le maire de Lyon épinglé, Carrefour et sa boite de recouvrement dépoilés, Thales grillé et le logiciel Géoprévention en garde à vue...
>> Palmares des Big Brother Awards France 2002 (remise des prix à Paris, 20 janvier 2003)